Looking for a scenic way to get to downtown Manhattan? Yearning for a sightseeing tour of New York City's dazzling waterfront, perhaps with some dinner and entertainment?
Let New York Cruise Lines (NYCL) be your guide. Headquartered in midtown Manhattan, NYCL is an established maritime sightseeing, entertainment, dining, and transportation company servicing some of New York City's most popular waterfront destinations and attractions.
NYCL's rich history began in 1945 with the formation of Circle Line Company. Floating icons in their own right, Circle Line Sightseeing vessels have been circumnavigating Manhattan for almost 75 years. Over time, the company grew and expanded with the addition of other services, including World Yacht Charters in 1988 and New York Water Taxi in 2017.
Since its inception, NYCL has entertained more than 85 million guests from around the globe. Mike Duffy, port captain for Circle Line Sightseeing Cruises, and the tour guides take pride in sharing New York City's iconic waterfront monuments and glittering skyscrapers. "You get to see people from all over the world view the Statue of Liberty for the first time, and you witness their looks of joy," says Duffy.
A new sightseeing trio
Gus Markou, president and chief operating officer, began his career as a Circle Line deckhand and now oversees NYCL's more than 25 ships, which include a growing number of John Deerepowered vessels. Several years ago, Markou led a $30 million new build project that involved replacing three aging vessels in the Circle Line fleet with three modern, custom-built sightseeing ships — the Circle Line Bronx, Circle Line Staten Island, and Circle Line Liberty. Each measures 50 meters (165 feet) long and carries up to 600 passengers. The vessels have their own routes around Manhattan Island, where about 130 landmarks can be seen from the water.
The modern ships align with the company's mission to give passengers a safe and memorable boating experience. It's all in the details, from the fact-filled narration to the quality and safety of its vessels and systems, including generator sets that supply power to the lighting and sound system. "The tour guides always put great detail into what they say," relates Duffy, "and with the John Deere-powered generator sets, we don't have to worry about the commentary not being heard." On all three ships, John Deere PowerTech™ 6068AFM85 engines drive twin 130-KWe generator sets that power lights, heating, and air conditioning. "We've been running John Deere since 2016, and we've never had an issue. We have very demanding schedules. We may have 600 people onboard, and these boats have to leave on time," Markou explains. "It's a great thing to push a button and the engine starts every day. Never an issue; they're dependable."
Markou says NYCL evaluated other engines before selecting John Deere. Paul McAllister, the company's port engineer, participated in the engine selection process. "At the time when we were considering repowering, we looked into which engine would offer the best solution," McAllister says. Engines were evaluated on cost, availability, ease of installation, longevity, quietness, and low vibration. They also wanted a power-dense engine that satisfied the power requirements in a compact package. According to McAllister, John Deere engines checked all the boxes.
"We find them to be very reliable products, always giving us an energy source for the lighting and activities onboard." He adds that the generator sets usually operate at about 75 to 80 percent load, with plenty of reserve power in the event that an orchestra and/or entertainer is onboard. "[American singer] Alicia Keys was on the Circle Line boats, and the electrical load did increase a great deal because of the additional lighting and sound equipment."
Dinner is served
Electrical demands on the World Yacht Charters Princess and Duchess can be even greater since the dinner cruise yachts have fully equipped kitchens. Four years ago, both yachts were repowered with twin 200-kWe generator sets powered by John Deere PowerTech 6090SFM85 engines. Either generator set supplies enough power to handle the full electrical load. The other generator set serves as emergency standby. The repower project also included a new PowerTech 6068SFM85 engine to power the bow thrusters.
Rich McGovern, engine representative for Bell Power Systems, worked with Bill Jette, vice president of marine operations and facilities for NYCL, from the very beginning of the repower process. "Part of my role is to make sure everything is going to fit," says Jette. "We spent time with Bell Power Systems trading blueprints and time with a tape measurer prior to making the purchase. We did all of our planning prior to receiving the engines. Once the engines arrived, it made for a smooth, well-planned installation."
McAllister and his crew also find the John Deere engines easy to service, and he attributes this to a simple, clean engine design. "Oil and air filters are quite accessible," says McAllister. He says Bell Power's Rich McGovern is easily accessible, as well.
"I've had a long working relationship with Rich McGovern," says McAllister. "He answers the phone when we need him, shows up, and will even come with parts in his truck. It's a really nice relationship."
Hey, taxi!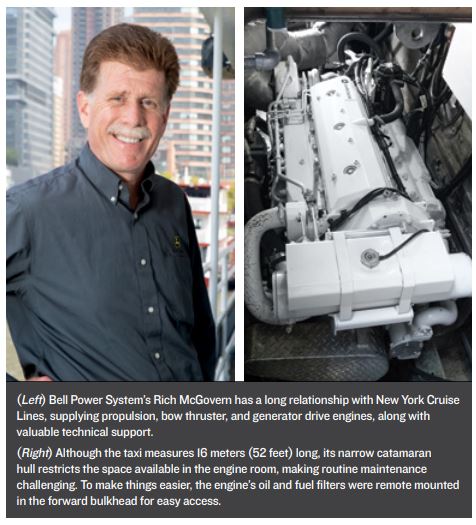 More recently, McGovern supported the effort to repower three high-speed catamarans in the New York Water Taxi fleet with PowerTech™ 6135SFM85 engines. "The water taxis were built in 2002, and we wanted new engine technology that was lighter, Tier 3-compliant, that could create more torque and horsepower, and also allow us to save fuel and lower operating costs in the long run," relates Bill Jette. The 6135SFM85 propulsion engines offered that and more. "Compared to the previous engines, the John Deere engines are considerably lighter and generate more horsepower and torque at a lower rpm, which helps improve fuel efficiency."
The catamarans' engines turn 80x76-centimeter (29.5x30-inch) props through a ZF 500 A1 transmission with a 2:1 gear ratio. Fully loaded with 100 passengers, the vessels cruise 20 knots and top-end at 23 knots. "Whether we're running light loads or are full of passengers, the boats get right up on plane," says McAllister. "There's no lagging in the throttles. They move quickly. That's important because we need to keep the vessels on a time schedule. With John Deere engines, the boats are always right on top, staying right with the program."
Distributor: Bell Power Systems, LLC in Essex, Connecticut